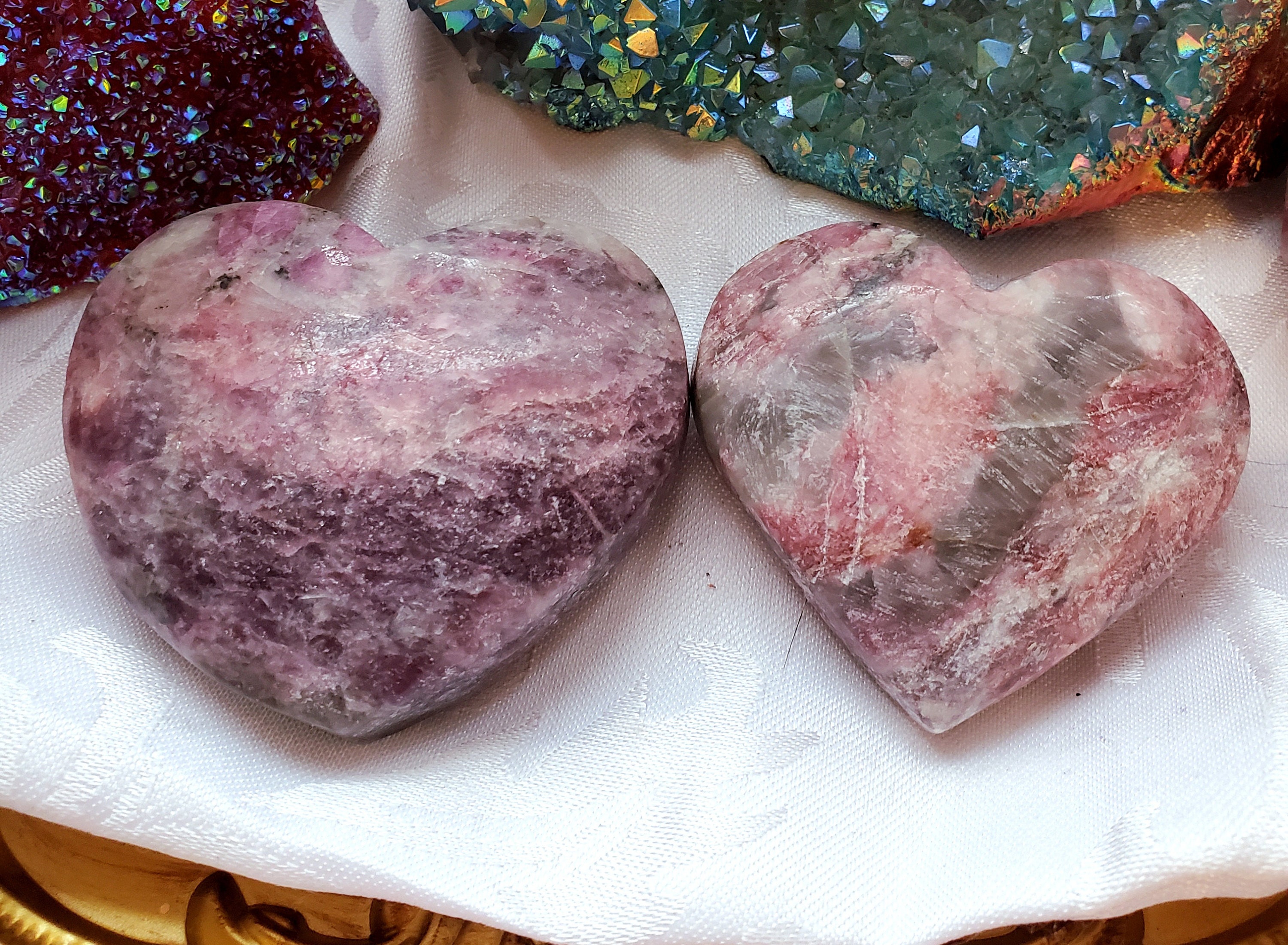 What are Unicorn Stones? Why are they so popular? Where do they come from?  How do I use them?
Unicorn Stone is a unique and recent find of Pegmatite from Madagascar. When it was discovered, it was so rare, the crystal was only found in one mine. It is a beautiful composition of Pink Tourmaline, Lepidolite, Smoky Quartz, and Clevelandite - a form of albite.  The beauty of this stone is not only the obvious colors, patterns and sprakle but there is beauty in how it impacts lives. The mixture of these crystals and their metaphysical properties make this stone a wonderful healer and a popular crystal to own. Unicorn Stones emit a frequency that helps us to embrace each day with a youthful igor and excitement. They encouraging us to be heart-led, and to trust our universal support. They are beautiful in color and posess a wonderful sparkle.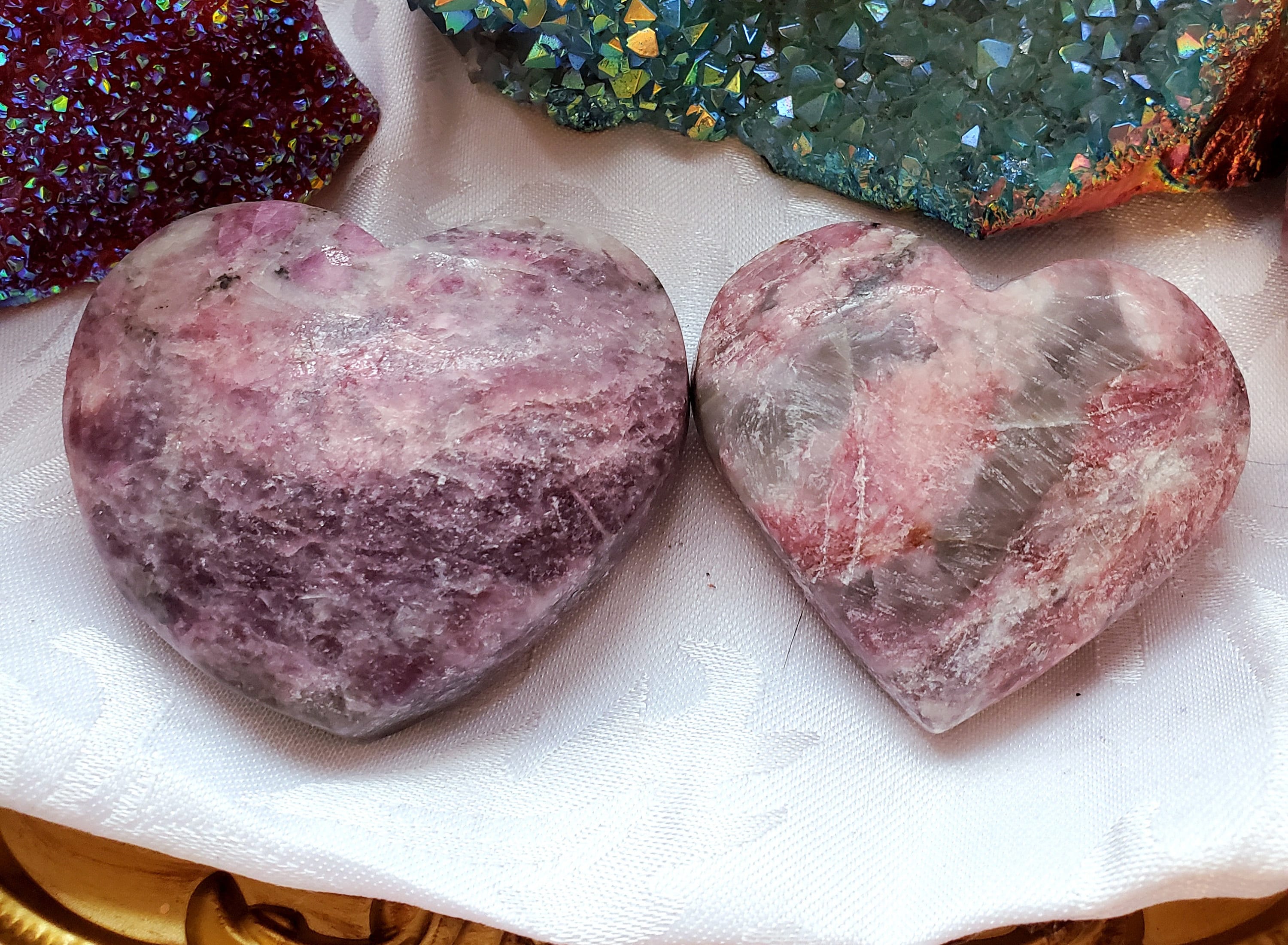 Since the crystal is a composition of several types of crystals,it is useful to understand the parts of the entire Unicorn Crystal. I will explain a little about the individual crystals that make up the unicorn stone.
Pink Tourmaline is a stone of love, compassion, emotional healing and self love. It helps calm ones emotions in times of distress, and is the perfect stone to carry if you suffer from daily bouts of anxiety. This stone is such a strong healing stone due to it commonly being formed within Quartz masses. It is like having a beautiful pink bubble of love that surrounds you, keeps you safe, and makes you feel good. The crystal repells negativity and negative influences. It is a terrific grounding stone. The protection of Pink Tourmaline comes from the heart and knowing how much love you have, can attract and can share with others. It is a very love centered stone. Black Tourmaline, itself, dispells negativity but not in the same heart centered way. Both Pink and Black Tormaline are very protective.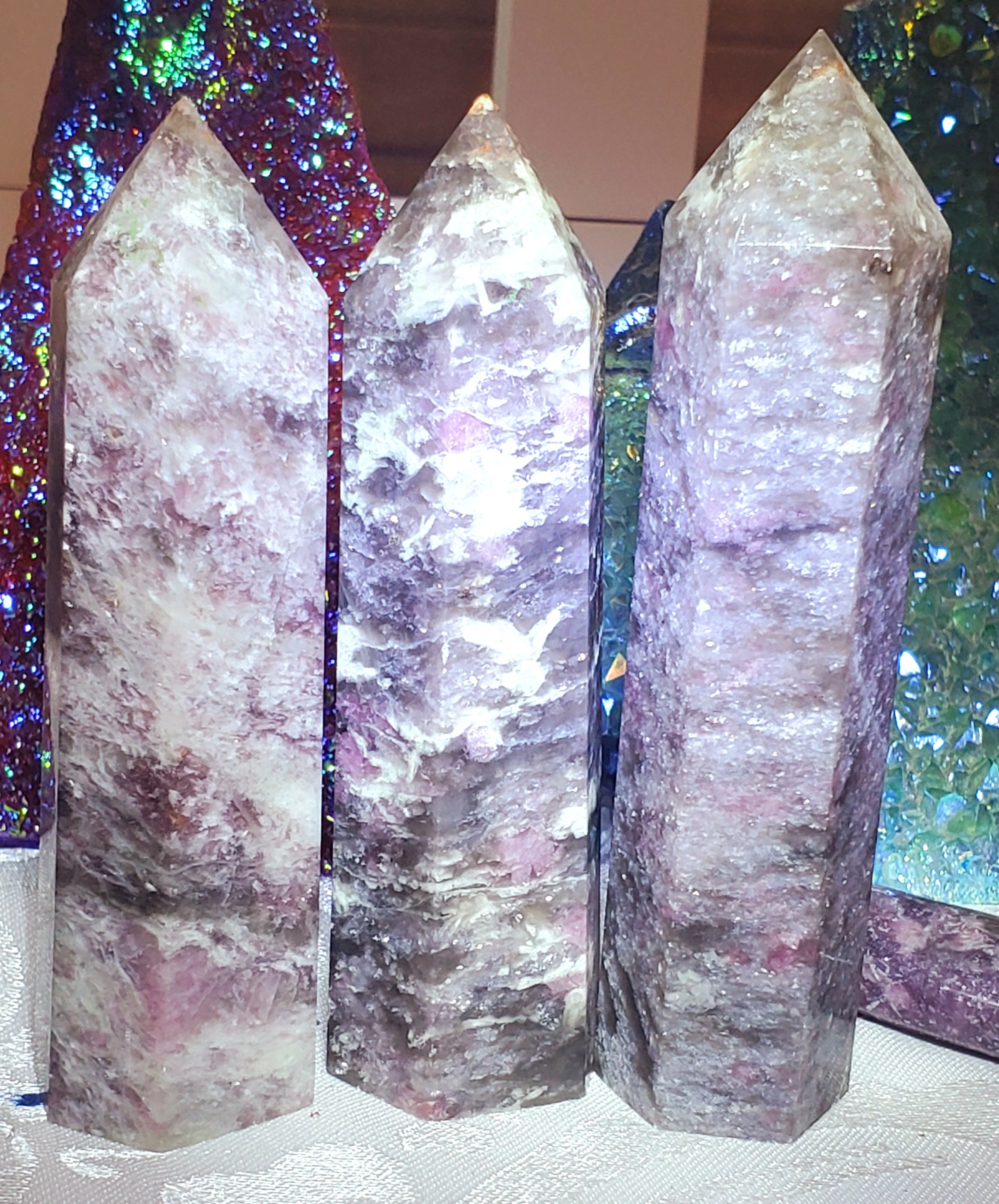 Lepidolite is a peaceful, tranquil, sleep aid. It releases you from negative habits, thoughts, energy and the effect of negativity. Lepidolite encorages divine connection.  The crystal increases self love. It is very calming, soothing and nurturing in its effect on each person. This is a great crystal for many spiritual purposes. It is one of my favorite crystals. the chakra it influences are the crown, throat and heart chakra stone. It contains natural lithium. Lepidoliate comes in a variety of gorgeous shades of purple. 
Smoky Quartz is grounding crystal that helps you move on from the past to a brighter future. It is hopeful in its impact. It removes negativity and negative energy from you. Smoky Quartz is calming as it helps to release fear, stress, anxiety, sadness and other negative thought patterns. It gets rid of unwanted baggage that no longer serves you. It is a freedom stone that is full of joy and higher vibrations such as love, joy and laughter. It is a great healer in many ways. It is a crystal that is reported to be beneficial to those who suffer from cancer and it said to be one of the few that people facing such health issues can use on a Spiritual Level.
Clevelandite helps us stay present in the moment and move safely through challenging circumstances, or times of profound change. This form of Albite focuses on the life affirming positive changes that arises out of facing difficult situations. It encourages you to see the dawn coming and a new day beginning as well as knowing how to make the change you want in a positive way. As they say, " The Phoenix rises." within us all. It is a great second chance crystal.
All of these different crystal frequencies have a wonderful and unique syngery. 
I have several types of Unicorn Stones on the site and more come in stock on a regular basis.
Here are some links to the Unicorn Towers and hearts  Unicorn Stone Towers, Pegmatite Tower, Pink Tourmaline with Smoky Quartz and Lepidolite, crystal points, crystal points, Healing crystals (crystallovershaven.com) 
Unicorn Stone Towers,Moss Agate , Pegmatite Tower,Crystal tower, Crystal, Crystals (crystallovershaven.com) 
 Unicorn Stone Heart, Pegmatite Heart, crystal, crystals, Hearts, Gift for Her, (crystallovershaven.com) 
Crystal healing is not meant to be used in place of medical treatment. All information is solely for spiritual purposes and should not be used as medical advice.
I am a Certified Crystal Healer and Yoga Alliance Certified Instructor. If you have any questions dm me.